Ven. Khenpo Dakpa Woeser
Ven. Khenpo Dakpa Woeser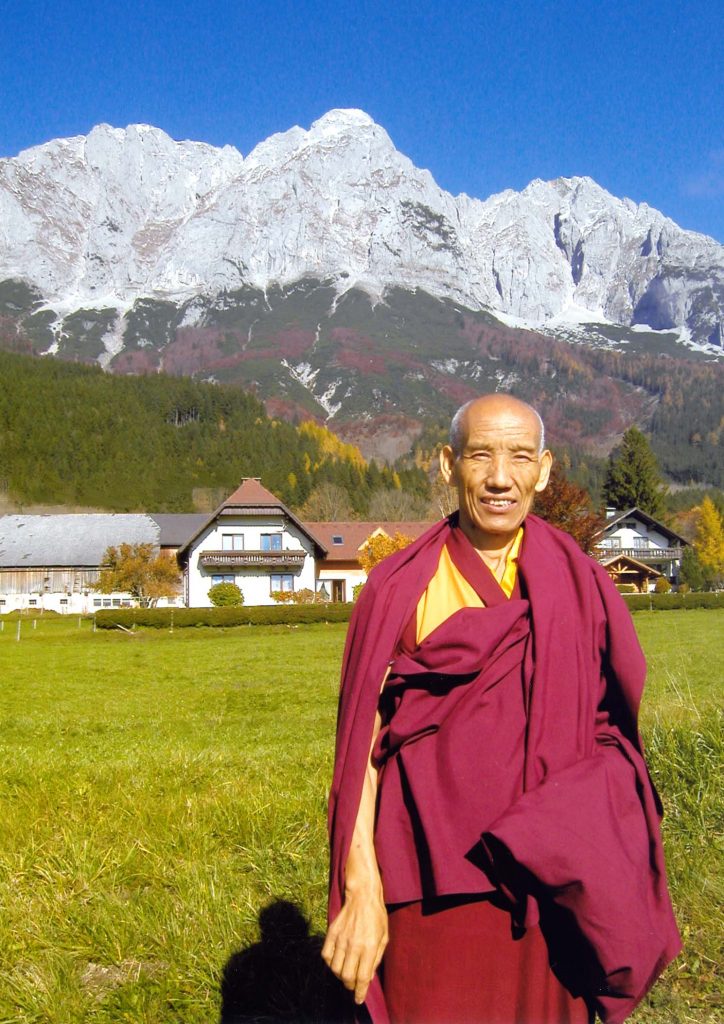 Ven. Khenpo Dakpa Woeser, a remarkable resident lama at Sakya Tsechen Ling Institute from 1991 till 2017 had a strong effect on the Institute. He was born on 8 September 1939 in Mi, a small village close to Sakya, into the Kyab Shenpa family of farmers. Tashi Wangdu, his birth name, expressed a great interest in the profound spiritual tradition of his native Tibet at a very young age. In fact, several members of his family were assiduous practitioners. One of his brothers became a monk, while his grandfather was a "Goroum", an appointed Mahakala ritual master, for over 33 years.
At the age of seven, Tashi Wangdü joined the sutric school of the Sakya Monastery, Chöde Lho, where he received his current ordination name – Dakpa Woeser. Six months later, he joined the Sakya tantric school, Chöde Chang. His training and education in Tibet was very strict. At the age of eight and a half, he passed his Vajrakilaya exam in the compassionate presence of His Holiness the fortieth Sakya Trizin, Ngawang Thutob Wangchuk. For the next thirteen years, three-month study semesters at the tantric school alternated with strenuous examinations. He gained a complete mastery over the scriptures, rituals and sacred dances of different deities, such as Mahakala, Vajrayoghini, Vajrakilaya and many others. During his stay in Sakya, he also completed various retreats: a nine-month Hevajra retreat, three-month Vajrakilaya, Mahakala, Virocana retreats, and many others.
In 1959, he took the Bhikshu vows from the eminent master, Lhatang Khenpo Rinchen Sangpo.
He then left Tibet for India later that year. He stayed at the Ghoom Monastery, close to Darjeeling, for 32 years where he shared a small wooden attic dwelling with three other monks. The entire monastic community was continuously blessed by the magnificent teachings of Khenpo Sangyé Tenzin, who, in 1989, was pleased to receive an invitation extended to Lama Dakpa from Khenchen Sherab Rinpoche to come to Sakya Tsechen Ling in Kuttosheim, France.
Meanwhile, His Holiness the Sakya Trizin conferred the title of Chöpön upon Lampa Dakpa, and invited him to be part of his retinue in the role of the shrine keeper during the three-to-four-month Lamdre and Drubtab Kündü teachings in Dheradun and Ladakh.
In 1991 he arrived in France where he took residency at Sakya Tsechen Ling. He served Khenchen Sherab Rinpoche with unshakable determination for over 23 years.
His daily schedule included an early morning Tara ritual and an afternoon Mahakala ritual. He observed special practice days in accordance with Tibetan calendar and attended retreats on these occasions, for three to five days, in order to perform additional prayers and rituals.
Venerable Lama Dakpa Woeser often confered teachings and regularly visits to Yeshe Chöling Sakya Centre in Freiburg (Germany), where he performed different rituals, including the Tara ritual.
On 29 September 2015, while visiting the Guru Sakya Monastery in Darjeeling, His Holiness the Sakya Trizin conferred upon him the title of Khenpo and in 2015 he started giving initiations.
His Holiness Sakya Trizin wrote the following recognition for a lifetime's work, in 29 September 2015, at the Darjeeling Guru Sakya monastery Do-Ngag Norbu Ling: "Lama Dakpa Woeser, the resident Lama at our Dharma center (Sakya Tsechen Ling) in France, has been exerting himself in the training of holy Vinaya (the monastic discipline), and is accomplished in the ritual tradition of the great masters of the past. He also diligently studied the traditions of both sutra and tantra under the late Khenchen Sangye Tenzin, and has thus become examplary in terms of knowledge and conduct in all regards. On top of that, he also took special care of this monastery (in Darjeeling) by offering his financial support.
For these reasons he has been nominated Khenpo and shall from now on receive the honour and respect due to this position and shared among the Khenpos of the glorious Sakya tradition. From the side of the owner of this title and befitting his newly gained status, it is also important he increases the kind of efforts he displayed in the past in terms of service offered to the community, which definitely was of great benefit to the teachings and the monasteries.".
Ven. Khenpo Dakpa left his body peacefully on 29 November 2017, while meditating mindfully in his room after performing the Green Tara Ritual earlier that morning, like any other morning.